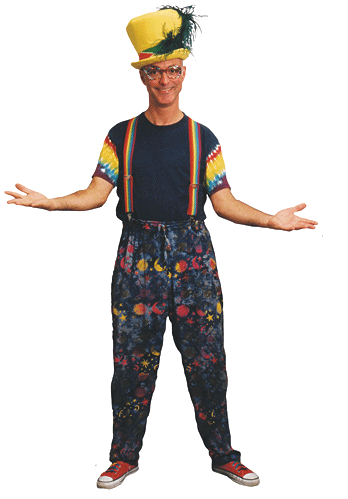 Prince of Color
Delights Local Kids

Jeff Seideman - The News Times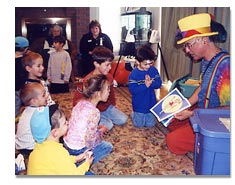 Yuri is a children's teacher and entertainer who's been captivating kids and parents alike for more than 10 years.
"I'm not a clown, I'm a children's entertainer," says Yuri "Prince of Color" Friman, in a mock-serious tone. Known for his colorful costume, silly songs, tricks and games for kids, Yuri is a favorite with children ages 2-9. And now he has brought his popular show from California to Connecticut.
The Prince of Color show can be best described as an interactive variety experience for children two to seven, including movement games, music, magic, parades, juggling, parachute time, bubbles, singing and more. No two parties are the same - except for the giggles, belly laughs, shrieks and smiles — as Yuri tailors each performance to the moods and interests of his young audience and engages everyone in the festivities.
And no one has more fun at the party than Yuri himself. "How can I help it?" he pleads. "Put kids in the middle of a party and they turn into entertainers themselves. They can be hysterical. The more fun they have, the more enthusiastic - and amusing — they become."
Yuri is a children's teacher and entertainer who's been captivating kids and parents alike for more than 10 years. He's "on" from the moment his 4 1/2 year-old son Eli wakes in the morning to his evening and weekend transformation into the joyous Prince Of Color, and back into his dad's role as he and wife Leslie put Eli to bed.
But, as busy as he was in California, Yuri was never too busy to bring his fun-filled variety show to the kids of Petaluma California COTS (Committee on the Shelterless) Center for Homeless Children and their Families. "I always get a kick out of being the Prince of Color, but there's something special and important when I can focus a bit of invention on one of these kids. Being in a strange place can be scary, but having the undivided attention of a silly guy who gets as many hugs as he gives, makes it a little easier for them."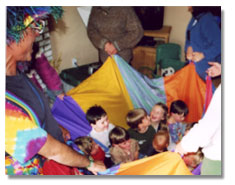 For the COTS kids, the weekly visit from The Prince Of Color was a bright diversion in an otherwise difficult and stressful period. While their parents focused on job training, education and transition programs, the kids became the center of Yuri's world. When the Prince Of Color was in the house, every child got the special treatment that made them feel special. Yuri hopes to bring his brand of laughter, fun and games to similar venues with children in need in Connecticut. Please contact him if you have any requests or suggestions.
Yuri is a transplanted New Yorker who lists the Marx Brothers, Mel Brooks, Steve Allen and Steve Martin as his comedic inspirations. In addition to a lifelong fascination with jokes and comedy, he brings adiverse educational and professional background to his work. He holds a Masters degree in Psychology, leads grief groups for young children and teens through hospice and for many years worked as a cameraman.
For more information and to speak with Yuri directly about birthday parties, weddings, corporate events, family get togethers or other special events visit his Web Site at princeofcolor.com.