"Prince" Makes Homeless Kids Smile

Shelley Klaner – The Press Democrat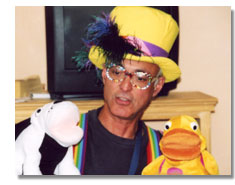 Funnyman Yuri Friman Brings His Zany Antics to the Cots Children's Haven
What makes a grown man don a yellow top hat with feathers, red tennis shoes with multicolored laces, rainbow suspenders and goofy Elton Johnlike sunglasses?
This is what Yuri Friman wears to work. The self-crowned "Prince of Color'' declares he is not a clown, but delights children throughout the county with silly songs, tricks and storytelling.
Friman, a former therapist, takes his show once a week to the Children's Haven at Petaluma's shelter for homeless families, run by COTS (Committee on the Shelterless). He entertains for free, he said, just to see the young children at the shelter laugh and smile.
Children's Haven offers licensed day care and other services year-round to sheltered children and their parents, including parent training, counseling and assessment.
Carrie Hess, a teacher at Children's Haven, says the children look forward to Friman's visits and his interactive variety show.
"They get to know his tricks and can't wait to see what he has up his sleeves,'' she says. "The mothers bring their babies out and give him a hug and throw a kiss.''
Friman usually performs at birthday parties and local shopping centers and events. His entertainment is geared for kids ages 2 to 7.
His audience at the family shelter varies from visit to visit. Sometimes there is a roomful of children; other times Friman shares his talents with a lone child. No matter how many children attend, Friman doesn't change his repertoire.
He likes a big crowd, but says one shy child can be a challenge. Waving a wand and making pictures disappear and reappear in a coloring book is only one of his tricks.
The children clap and sing songs and scream "abracadabra.'' There are parades around the room. A potato chip break brings a toy snake popping out of a Pringles can and the kids jumping over one another to catch the wiggly creature. Friman pops a quarter out of his eye and gets the kids to sing along while he juggles whatever is in sight.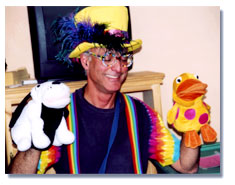 Marie Cotton is one of Friman's fans. "The coloring book was funny,'' she says of the disappearing pictures. She recently saw Friman for the first time at Children's Haven and says she can't wait to see him again.
Friman says there's one difference between performing at the shelter and at a family party. Kids at Children's Haven cling to him, glad to see that another adult cares about them.
"There are more hugs here,'' he said. "They are more attached. They don't want me to go. When I perform at a party they just get ready to eat their lunch or pizza. The homeless children need as much attention as they can get.''
Friman has dressed in his colorful costumes and entertained kids for the past two years. His career has been varied, but centered on children.
With a master's degree in psychology from the New School for Social Research in New York City, he worked as a therapist counseling teens and families in crisis in Boston.
For five years, he was a Gymboree teacher at schools in Santa Rosa, San Rafael and Mill Valley. Friman describes Gymboree as an interactive play program reinforcing proper physical and social development for children.
Friman fell into his new career as an entertainer after stints as a massage therapist, a videographer and several other odd jobs. "I always had a performance bone. I just never pursued it,'' he says.
Then a friend, Princess Polkadot, encouraged him to join her shows. Friman says he is not a clown, juggler or magician, but a jack-of-all-trades and an honest-to-goodness goofball. "Yuri Prince of Color is an exaggeration of who I really am,'' he says.
Since the birth of his son, Eli, two years ago and the development of his performance alter ego, Friman says he approaches life in a different way.
"It reminds me of the sense of wonderment and spontaneity when you watch children learn, and I have fun myself,'' he says. "That's why I stay so young at my age.''
He calls himself "Mr. Mom'' because he takes care of Eli while his wife, Leslie, works as a graphic artist. Friman rides around town on his electric bike, wearing a Mad Hatter hat, with his son in tow.
Friman is also a volunteer with Hospice of Petaluma, co-leading a grief support group for teen-agers. He has also been working with Wilson Elementary School children, who recently lost a fellow student who died from asthma.